Explains How Businesses Use Risk Management Breakthroughs to Outperform Competitors, Achieve Higher Profits and Sustain Growth
---
"Leading from Under the Sword of Damocles: A Business Leader's Practical Guide to Using Predictive Emulation to Manage Risk and Maintain Profitability" is now available at online booksellers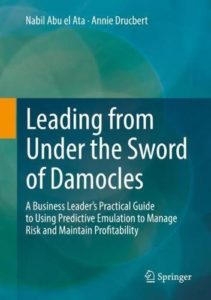 Dr. Nabil Abu el Ata, URM founder, business technologist and author, has just released his latest book, Leading from Under the Sword of Damocles: A Business Leader's Practical Guide to Using Predictive Emulation to Manage Risk and Maintain Profitability. Dr. Abu el Ata jointly authored the book with Annie Drucbert, URM co-founder and technology strategist, to explain how businesses are using universal risk management (URM) breakthroughs to outperform competitors, achieve higher profits and sustain growth.
Globalization trends and the rapid pace of technological innovations have introduced unprecedented change and uncertainty. To thrive under these conditions, companies must adopt new risk management practices and technologies to better anticipate and adjust to risks caused by the hyper connectivity of our modern world.
Leading from Under the Sword of Damocles helps readers understand how new algorithm-based predictive and prescriptive analytics technologies are being used to control risk and maximize opportunities in today's dynamic business environment.
Case studies show how the presented URM methods have been practically applied to preemptively expose risks and support decisions to optimize, transform or disrupt current business models, strategies, organizational structure and information technology (IT) systems when necessary to maintain a market position or outperform competitors.
"For those that want to forge a clearer and more scientific path forward," Charlie Fote, CEO, Fotec Group, former CEO, First Data Corporation, says, "Leading from Under the Sword of Damocles provides a practical guide that shows business leaders and risk management practitioners how mathematical emulation can be used to understand the modern impacts of hyper connectivity and hyper risk, as well as clearly identify when and which opportunistic actions should be taken to ensure the continuous efficiency and cost effectiveness of business operations."
Leading from Under the Sword of Damocles  is 233 pages, published by Springer, and available in both print and e-book through online book sellers including Amazon.com and Springer.
To learn more about the practice of universal risk management and the technological breakthroughs that support improved business performance, visit: http://URMgrp.com.
About the Authors
Nabil Abu el Ata has invested over 20 years maturing the science of risk management and the practical application of predictive analytics technologies. In the late 1970s Dr. Abu el Ata's mathematical discoveries provided accurate coordinates for space exploration. By solving a problem that was previously defined as unsolvable, Dr. Abu el Ata set the foundation for a new era of risk management, which today enables companies worldwide to more accurately predict future system behaviors and take strategic actions to improve business outcomes.
Annie Drucbert is a co-founder of URM GROUP and a recognized authority in the predictive and prescriptive analysis of economic, financial and enterprise systems. Mrs. Drucbert's specialties include modeling, emulation and performance management of complex database and corporate systems. Mrs. Drucbert holds 3 US patents and has delivered strategic, tactical and operational services using X-Act OBC Platform for many global clients.
https://urmforum.org/wp-content/uploads/icon-press-release.png
222
222
Valerie Driessen
https://urmforum.org/wp-content/uploads/URMForum-logo-2019-wh-01.png
Valerie Driessen
2018-04-12 13:37:06
2020-04-15 15:39:52
New Book from URM Founders