"The Tyranny of Uncertainty" is now available for purchase on Amazon.com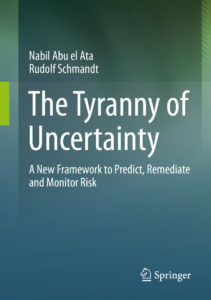 Omaha, NE—May 18, 2016–Accretive Technologies, Inc. (Accretive) announces the release of a new book, "The Tyranny of Uncertainty." Accretive Founder and CEO, Dr. Nabil Abu el Ata, jointly authored the book with Rudolf Schmandt, Head of EMEA and Retail production for Deutsche Bank and Postbank Systems board member, to expose how dynamic complexity creates business risks and present a practical solution.
The Tyranny of Uncertainty explains why traditional risk management methods can no longer prepare stakeholders to act at the right time to avoid or contain risks such as the Fukushima Daiichi Nuclear Disaster, the 2007-2008 Financial Crisis, or Obamacare's Website Launch Failure. By applying scientific discoveries and mathematically advanced methods of predictive analytics, the book demonstrates how business and information technology decision makers have used the presented methods to reveal previously unknown risks and take action to optimally manage risk.
Further, the book explains the widening impact of dynamic complexity on business, government, healthcare, environmental and economic systems and forewarns readers that we will be entering an era chronic crisis if the appropriate steps are not taken to modernize risk management practices. The presented risk management problems and solutions are based upon Dr. Abu el Ata's and Mr. Schmandt's decades of practical experience, scientific research, and positive results achieved during early stage adoption of the presented innovations by hundreds of global organizations.
The book is available  to order on amazon.com at https://www.amazon.com/Tyranny-Uncertainty-Framework-Predict-Remediate/dp/3662491036/ref=sr_1_1.
The methodologies and innovations presented in this book by Dr. Abu El Ata and Mr. Schmandt are now in various stages of adoption with over 350 businesses worldwide and the results have been very positive. Businesses use the proposed innovations and methodologies to evaluate new business models, identify the root cause of risk, re-architect systems to meet business objectives, identify opportunities for millions of dollars of cost savings and much more.
About Accretive
Accretive Technologies, Inc. offers highly accurate predictive and prescriptive business analytic capabilities to help organizations thrive in the face of increasing pressures to innovate, contain costs and grow. By leveraging the power of Accretive's smart analytics platform and advisory services, global leaders in financial, telecommunications, retail, entertainment, services and government markets gain the foresight they need to make smart transformation decisions and maximize the performance of organizations, processes and infrastructure. Founded in 2003 with headquarters in New York, NY and offices in Omaha, NE and Paris, France, Accretive is a privately owned company with over 350 customers worldwide. For more information, please visit http://www.acrtek.com.
https://urmforum.org/wp-content/uploads/icon-press-release.png
222
222
Valerie Driessen
https://urmforum.org/wp-content/uploads/URMForum-logo-2019-wh-01.png
Valerie Driessen
2016-05-18 22:25:21
2018-04-10 21:05:38
New Book from Dr. Abu el Ata Offers A New Framework to Predict, Remediate and Monitor Risk